Fashion
Face Masks: The Ten Best Designs We Have Found!
In England and Scotland, it is now mandatory to wear face masks whilst on public transport. Uber and other ride-sharing apps have also made it mandatory for both passengers and drivers to wear face coverings. These rules do not apply to children under eleven or individuals who are unable to wear a face mask due to disability.
With these new rules on face coverings, we should all have a few reusable face masks for when we are out and about. Luckily, our favourite designers and stores have been busy creating some unique and attractive designs so that we can stay safe in style!
We've rounded up a few of the best face mask designs available in the UK.
Liberty Print Face Masks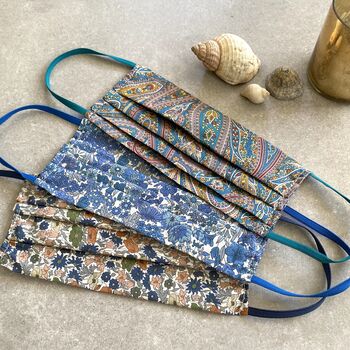 Price: £12.00
Available at notonthehighstreet.com, these liberty-printed face masks come in six different pattern options. They are designed with a luxe elastic so that they sit comfortably around the ears. Soft cotton material with two layers of fabric ensures an improved fit and style for the wearer.
Razer Cloth Mask
Price: £29.99
Gaming store, Razer, offers a face mask for those desiring something a little bolder. These masks are designed with 95% bacterial filtration efficiency and a double layer fabric weave to filter out pathogens. So, this face mask isn't just stylish but practical too. It is one of the more expensive designs on our list. Still, the eco-friendly antimicrobial organic cotton and soft breathable design make Razer's face mask a top pick for comfort, protection, and style.
ASOS Design Face Masks
Price: £16.00
If you're looking for something a little more subtle, ASOS offers a pack of five plain black reusable masks. These designs are pleated and have elasticated straps. The simple black design makes them perfect for matching with a variety of outfits when out and about.
Vistaprint Kids Dinosaur Mask
Price: £13.00
Got kids in the family and worried about getting them to wear a face mask? Vistaprint's selection of reusable masks with easily replaceable filters might be the answer! The Vistaprint kid's face mask range comes in several cute design options including dinosaurs, hearts, and planets. They are lightweight, latex-free and machine washable, making them a practical choice for families. You can purchase replaceable filters from Vistaprint in packs of ten for added peace of mind.
ASOS Bandana Face Coverings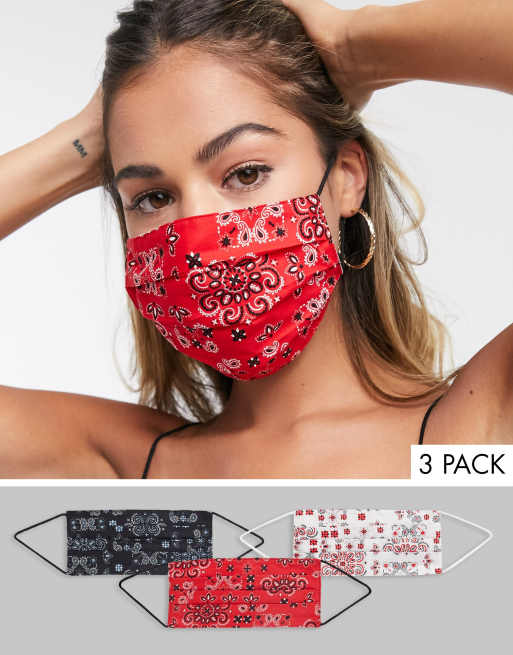 Price: 14:00
ASOS offers this affordable set of face masks with three different bandana-style prints. Perfect for a more boho style, these make a fun change from the popular flower-print designs on the market. These face masks are designed with a pleated finish and elasticated straps for comfort.
Adidas Face Covers
Price: £12.95
If you have a sporty style, you'll love the sleek design of the Adidas face mask range. Available in black or bright blue, Adidas face masks are designed with a soft, breathable fabric and come in packs of three. They are made from 73% recycled polyester and designed with a tight fit for better protection. Also, £2 from every purchase goes to Save The Children's Global Coronavirus Response Fund.
Reusable & Reversible Face Mask – Family Pack
Price: £40.00
Deakin & Blue offers a range of NHS approved face mask designs in liberty prints. In their family pack you will receive four face masks that are adjustable, reusable, and reversible. Reversible masks are perfect for matching with different outfits. The print designs are super cute too!
Floral Fabric Face Mask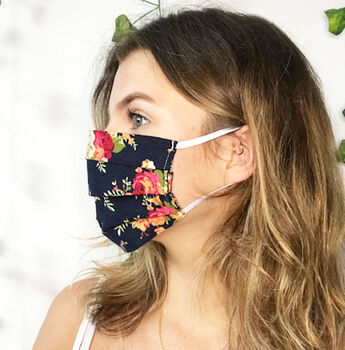 Price: £10.50
For an elegant, feminine design, this floral fabric face mask available from notonthehighstreet.com won't disappoint. For added peace of mind these masks are designed with a double layer of fabric and an opening to place your own filters. The masks are made from 100% cotton and are available in six different colours.
Great British Designer Reusable Face Coverings – Julien Macdonald, RIXO, Liam Hodges
Price: £15.00
The Great British Designer Reusable Face Coverings range includes three reusable face coverings and two protective pouches. These are designed by Julien Macdonald, RIXO, and Liam Hodges. Each mask has a double organic cotton fabric layer, a nose-strip, a space for filters and adjustable ear straps. Best of all, 100% of the profits from each sale are split between three charities: NHS Charities Together, BFC Foundation Fashion Fund, and Wings of Hope Children's Charity. They are available at several British retailers including Sainsbury's and Boots.
Up Beat Children's Face Masks
Price: £39.00
Another one for the kids! These super soft and cute masks were designed to be a little more subtle than other options on the market. Easily paired with a variety of outfits, these masks are designed to complement rather than dominate a kid's outfit. They are made from 100% cotton and come with a removable activated carbon filter. Available at notonthehighstreet.com.
Let us know in the comments below if you've tried any of the masks from our list! And keep safe 🙂