Fashion
The Best Active Wear Brands in The Business Right Now
Comfortable, durable activewear can make all the difference to your workout routine. You want to enjoy that Zumba workout without constantly readjusting those leggings!
To help, we've curated a list of our fav activewear brands in the business. Check them out now!
1. Jilla Active
London based activewear brand, Jilla Active, uses seamless knitting for increased comfort. Their collection includes sports bras, leggings, shorts, and tank tops.
All their designs are made from either bamboo, polyamide, or modal yarns. These yarns allow for comfortable breathable clothing. Both bamboo and modal yarns are sourced from sustainable plants or trees – for an eco-friendly workout!
Jilla Active works with their own family-run factory in China to ensure working conditions are kept to a high standard. There's also a workers union to ensure employees receive a fair wage.
2. RubyMoon
RubyMoon is a not-for-profit swim and activewear brand. 100% of RubyMoons profits are invested in business loans and training for women in developing countries. All of their garments are named after some of the women they have supported – read some of their inspiring stories here!
As well as empowering women, RubyMoon is committed to helping the environment. By using yarn regenerated from ghost fishing nets they help to reduce ocean waste. They also practice slow-fashion principles and a zero-waste approach to packaging.
3. Café du Cycliste
Café du Cycliste is a premium cycling apparel brand. The idea first began at a small french cafe near the Mediterranean coast.
They combine a chic french style with high-performance design. Plus their garments are made in Europe so you can shop with a reduced global-footprint!
3. Fabletics
You've probably already heard of Fabletics. The favoured activewear brand of numerous Instagram influencers including Madison Fichtl and Frances Flores.
Co-founded by actress Kate Hudson, Fabletics offers high-quality activewear at affordable prices. Where possible they use biodegradable packaging and recently launched an Eco-Conscious collection.
4. Lululemon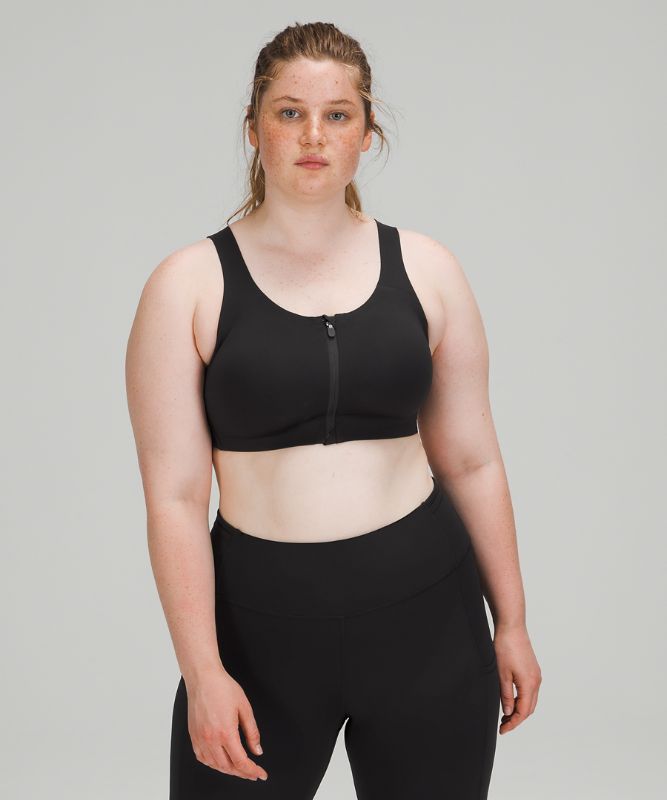 Lululemon specialises in activewear gear for men and women. Designing unique fabrics to suit specific sports, they produce activewear for running, yoga, swimming and training.
They also run a social impact program, Here to Be, which aims to remove social, physical, and financial barriers to yoga and mediation. Since its inception, the program has donated over 8,000 yoga mats!
5. Y-Fit

Y-Fit specialises in fitness and athleisure apparel. As a black-owned business, they aim to give hope and motivation for overcoming adversity.
"The Y Logo is a reminder to let your why fuel your ambition to succeed in life."Y-Fit
Their premium quality Hourglass Collection comes in a choice of four bold colours; royal blue, burgundy, black, and white.
6. People Tree

People Tree designs sustainable and fair trade clothing at affordable prices. They use natural resources to protect the environment and combine traditional skills, such as hand weaving, with new eco-friendly technologies.
Their ethical yoga range uses organic cotton with prints inspired by the V&A archives. We love the Yoga Abstract Crop top and legging set.
7. Youswim
Youswim has an innovative approach to swimwear. They don't do sizes. Sounds a little crazy right? But it works! Their one-size ribbed, flexible swimwear styles are designed to shape and flatter UK sizes 6 – 18.
All their garments are made in England and no sweatshops are involved in the production line. So, their garments aren't just flattering but ethical too!
8. Carrot Banana Peach
Carrot Banana Peach offers organic plant-based activewear for men and women. Their innovative and eco-friendly fabrics include bamboo, soybean, aloe vera, and organic cotton.
Their ethical, vegan yoga clothes are designed to embrace the yoga philosophy. And they have recently released an organic bamboo facemask, donating 10% of profits to NHS Charities.
Have you shopped at any of these brands? Do you have a favourite activewear brand to tell us about? Let us know in the comments!